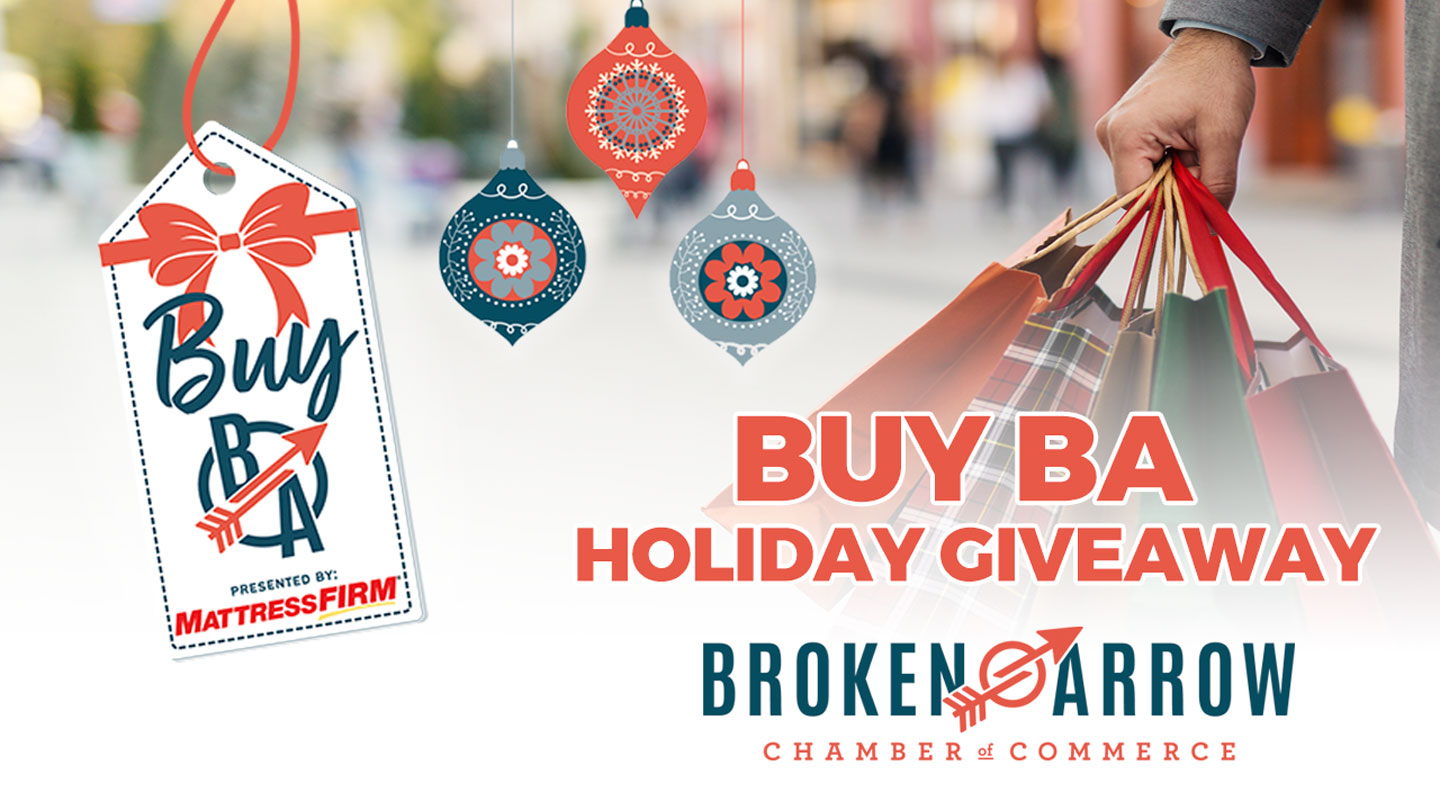 Buy Broken Arrow Holiday Giveaway
Listen to Big Country for your chance to win gift cards from participating Buy BA Merchants!
Two chances to win daily from November 27th - December 8th!
Shop local for a chance to win $10,000!
Buy BA is giving away $16,000 in cash prizes this holiday season!
We have also added the following new elements to the campaign:
Buy BA Benjamins: Throughout the campaign Broken Arrow Chamber staff will surprise a shopper at two participating merchants each week with $1,000 in Buy BA Benjamins to spend at that merchant.
Small Business Saturday – Buy BA is partnering with 106.9 K-Hits for a live remote in the Rose District from 10 a.m. – 12 p.m. on Saturday, November 25th. We will be promoting our participating merchants and handing out giveaways (while supplies last).
Click here for full campaign details.
Winning tickets for all four drawings will be selected on Saturday, December 14th from 10am to 3pm.
Win a $50 gift card from one of these participating merchants:
Bramble Breakfast & Bar (11/27)
Broken Arrow Lanes (11/27)
Sinclair Auto Center
*Giveaways are 11/28, 12/4 and 12/8
Harmon Insurance
*Providing Mastercard Gift Cards on 11/28 and 12/6
Interstate All Battery Center of BA (11/29)
Kenneth Baucum Photography
*Giveaways are 11/29 and 12/7
Laurannae (11/30)
Martial Arts Advantage (11/30)
Burger King (12/1)
MetroMerch (12/1)
Nothing Bundt Cakes (12/4)
Paloma's Plants (12/5)
Nouveau Chocolates (12/5)
Spectrum Paint (12/6)
Summer's Market Floral & Home Decor (12/7)
Supermercados Morelos (12/8)
Click here for a full list of participating merchants!
All winners must pick-up their gift cards at the Broken Arrow Chamber. Call them at 918.893.2100 for information about their hours. All dates listed next to each merchant indicate when the gift card will be given away on Big Country 99.5 on-air.
Official Rules